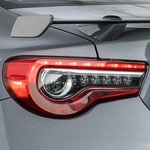 Sporty, reliable and responsive, the Toyota 86 is our Ferris Toyota team's newest favorite four-seat coupe or 2+2 sports car. It has many notable performance features, too. Take the following for example.
Superstar Dampers
Each Toyota 86 comes equipped with SACHS dampers, some of the highest quality in the game. SACHS dampers compress exquisitely to absorb bumps and sudden tire dips, letting you zip around the tightest corners over any New Philadelphia streets with ease, control and confidence. Big, 18-inch, split-spoke Michelin Pilot Sport 4 tires contribute enhanced grip and stability for better handling and efficiency.
High-Friction Braking Power
The Toyota 86 boasts Brembo brakes, a product typically associated with luxury vehicles. Brembo brakes consist of high-friction material for more braking power. Plus, the Toyota 86's brake sets entail four-piston front and two-piston rear calipers as well as large front/rear rotors for harder, later, maximum braking and faster response. The combinations of dampers, brakes and tires give the Toyota 86 a secure, buttery ride feel and keep this car ready for the race track or the side streets.