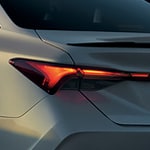 Performance, for the Toyota Avalon, is a true priority. This is very evident in Avalon performance features like a 3.5-liter V6 engine, the Toyota Racing Development and all-wheel drive. The Toyota Avalon's 3.5-liter V6 is an engine that gives your Avalon 301 horsepower and a highway mpg of 32.
Ferris Toyota finds the Avalon's Toyota Racing Development, or TRD, to be quite interesting. The Toyota Avalon can achieve even greater handling thanks to the TRD's track-tuning expertise. Turning New Philadelphia heads in your new Toyota Avalon will be a pleasure with the Toyota Racing Development at your service.
All-wheel drive is another Toyota Avalon performance feature that is designed for capability and dependability. This feature can send your Avalon' rear wheels as much as half of the torque. This will improve both your wheels' grip and your driving confidence behind the wheel of the Toyota Avalon.