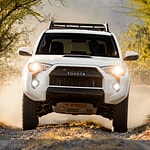 The midsize 4Runner has off-road capability that rivals iconic 4WD vehicles. For this reason, the ruggedly constructed SUV remains a favorite among adventurers. The 4Runner also has some exquisite exterior features.
The SUV comes in 10 different body colors along with various interior color themes. The 4Runner is available in six different trim levels. The angular front end of the vehicle frames the grille and fog lights. The LED headlights and daytime running lights are curved and angled too. The overall design creates an athletic, fierce appearance. The Nightshade Special Edition is the latest model to enter the Toyota lineup. The vehicles are black inside and out. Black chrome accents all sides. The 20-inch alloy wheels are also black as are the glossy black heated side mirrors, door handles and window surrounds.
LED headlights shine brightly into the night along with the dual fog lights that enhance visibility.