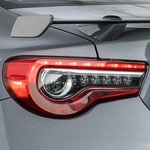 The Toyota 86 is a sports car. It can reach up to 60 miles in only 6.4 seconds. The maximum speed is 130 miles per hour. Additionally, the 2020 Toyota 86 has several interior features. It has a 7-inch touch screen with Android Auto and Apple CarPlay. You will be able to read messages and use your voice to reply to text messages.
You will also be able to get directions. You will be able to take care of all of those commands while you have your hands on the wheel. This vehicle also has a charging port and USB media. You will be able to play your favorite tracks with the audio system. You will also be able to charge your device at the same time.
You can check out the interior features when you test drive the car. Visit the dealership to test drive the car today.