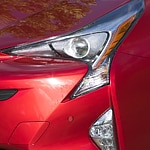 This article reviews Toyota Prius interior features.

Interior zone
Gauges and controls in Toyota Prius are very close to the touch of one's fingers; it has a touchscreen with an 11.6-inch display. It has different comfort types, including front bucket seats and rear seats, which are 60/40 and can be folded. This gives an armrest and therefore gives everyone the of travel.

Steering and the Softex seats

It has an eight power-adjustable driver's seat, a softex steering wheel wrapped, and a softex seats. In addition to that, it has a moon roof to let the sun sunshine.

Cargo area

It has a larger space when the 60/40 rear seats are folded down; when the seats are down, it has a greater area than full-sized sedans and the small SUVs.
The interior features make the car look nice and increase the vehicle's comfortability, thus the best option for buyers.