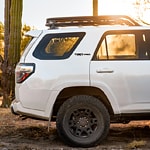 If you're looking for a durable and strong SUV that won't break the bank, we have the perfect vehicle for you. The Toyota 4Runner has been a popular sell for many years now. The latest version is just as promising. When it comes to the exterior, Toyota has ensured that you get all of the features standard that you would ever want.
Your front headlights, fog lamps and rear taillights are all an LED variety that allows you to remain visible in all kinds of conditions. You can easily see the road from behind the wheel.
A decorative and functional skid plate is included on the transfer case, engine and front suspension. Your standard wheels includes a P265 variety with 17-inch, six spoke alloy wheels for the SR5 and SR5 Premium trim levels. There is also the Venture Special Edition that has P265, 17-inch TRD alloy wheels but they are a sleek matte black.